In the lightly contaminated areas, people would be allowed greater freedom after the first forty-eight hours but should not spend more time in the open than was thought by their wardens to be safe.

In some districts losses of livestock would be serious; sowing of crops might be delayed and some time might have to elapse before harvesting could take place. The growth of crops would not be greatly affected in most of the fall-out areas, though the fall-out on them might make them unfit for consumption by humans or animals. It might be necessary to suspend marketing crops for the time being until they had been tested for radioactivity and found to be safe. The Agricultural Departments are training some of their staffs to be able to carry out this testing.

Fall-out warning
Unless it were a misty or rainy day, many people miles away would see the great ball of fire which would rise into the air after a hydrogen bomb had exploded, and with it the vast mushroom-shaped cloud of dust and debris that would contain the fall-out. The direction which the fall-out cloud would take would depend on several factors, including the direction and strength of the winds at ground level and up to heights of 80,000 feet or more, where the wind directions might be very different from those near to the ground.

People who saw the mushroom-shaped cloud would do well to make ready to shelter in case fall-out followed in their area. Plans are being made to give the public warning of the approach of fall-out.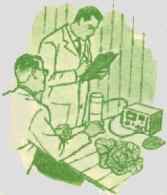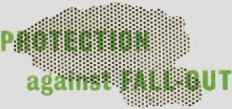 What protection is there against fall-out?
There are three simple facts about fall-out:
1. The rays from fall-out become less dangerous as time goes on, and, in particular, they lose most of their power within two days of the explosion of the bomb. For example,
100 units of radiation 1 hour after a bomb goes off would be reduced to about
10 units 7 hours later, and still further reduced to
1 unit after 2 days.
Even so, if the fall-out had been particularly heavy, it might still be dangerous to be out of doors after forty-eight hours.

2. The rays are less intense the further you are away from fall-out. If you could keep a distance of 12 feet or so away from the nearest fall-out, you would receive only about two-thirds of the radiation you would otherwise get.

3. The rays are markedly absorbed by heavy materials like brick, concrete and earth. A person shielded by a foot of concrete or 15 inches of brick or 18 inches of earth would receive only one-twentieth of the dose he would get if unprotected.
What do these facts mean in working out how to protect yourself against fall-out?
First of all, if you were in a fall-out district, you would have to stay indoors until told by a civil defence warden, or the radio, that it was safe to come out. Shelter in the cellar if you have one or, failing that, in a protected room on the ground floor of your house.
Secondly, if you and your family were in a shelter with walls giving the equivalent protection of concrete a foot thick and which was such that the fall-out on the ground outside and on the roof was nowhere nearer to you than about 12 feet, the radiation received in the shelter would be only one-thirtieth of that outside in the open. Moreover, by staying inside for the first two days, you would have been having this thirtyfold protection during the time the fall-out was most dangerous. The radiation after two days would be only one-hundredth as dangerous as it had been just after the explosion.
There are two other rules to observe about protection. The first is to keep fall-out off your skin and clothes. When it is on or near your body, it can cause serious burns. So if you believed you had fall-out on your clothes or body, you should change into other clothes at once and wash very thoroughly. The other, and most important, rule is to avoid getting fall-out inside your body, whether through a cut or on food or in water. Once it is inside your body, the radiations can do very great damage to the internal organs and bones.
These rules, and the advice about sheltering in the most substantial building available, can be used to work out measures for protecting your livestock as well as your family.
Even when you were told it was safe to come out of shelter, it might still not be safe to stay out of doors very long. Your warden would tell you whether you could get on with your work without further risk from radiation or whether your farm was in an area where the fall-out had been very heavy and where it would be necessary either for you to leave your farm for a time or, for your own safety, not to spend more than a few hours a day in the open for the time being.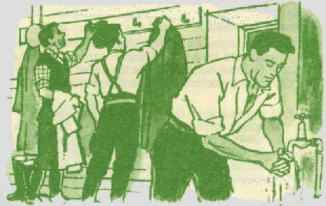 Although fall-out would be very dangerous, there are some useful precautions you could take to protect your family and your farm. Not all farms would be affected, but it is worth while taking these precautions because if hydrogen bombs were to explode in this country a very large number of farms would be affected to a greater or less extent and yours might be one of them. Moreover, many of the measures that would reduce the risk from fall-out are also good farming practice in peace time and worth adopting purely for their peace time value.
For example, in peace time, well-managed pasture or fodder crops lead to lower production costs; in war time, livestock would come to less harm from fall-out in grazing a thick quick-growing pasture or fodder crop than if they were on a poor pasture where they had to graze a large area to get their food. The farmer with ample silage and hay would be able to feed it to his dairy cattle and avoid or delay putting them out on to contaminated pasture.
Even the layout of buildings, yards and roads would help, not only in peace time but in fall-out conditions in war time. A good layout would help the farmer and his men to reduce the time spent out of doors and so minimise the dose of radiation they might receive. So efficient farming is not only in the national interest and the farmer's interest in peace time, but it is a way of preparing for safer farming if another war should occur.
If you had a few months' warning of the possibility of war
Supposing there were to be a few months' warning of a war, these are some of the things you could do to make your family safe if fall-out should come:
Get ready to act on the advice in this handbook, and make sure you arrange things so that you can make the best use of a few hours' warning of fall-out.
Make your cellar habitable and as comfortable as you can. If you haven't a cellar, prepare a refuge room in the house. Keep a stock of tinned and packaged food in your house and some containers to hold drinking water for your family. A supply for two or three weeks would be a wise precaution. A stock of soap would also be useful for personal decontamination if you were to get fall-out on your skin.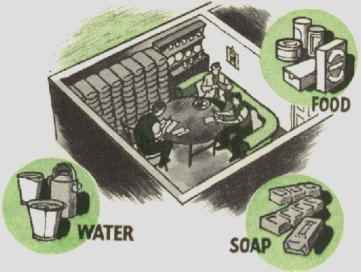 These things would help to make your farm safer if fall-out should come:
Work out in advance whether you have shelter for dairy cattle and other livestock; try housing them one day to see how long it would take.
Remember that the fall-out might be so dangerous that you would have to stay indoors for two days after it came down. This means that you might not be able to get out to milk your cows and they might be in considerable pain by the time you could milk them again. Probably the best thing you could do would be to provide yourself, or one of your men, with a protected shelter (for example, a loose box protected by a thick layer of earth) in the cowshed and equip it with a bed. Whoever stayed in it could leave it for long enough to ease the cows if they were in pain, but milking should be left as late as possible in the two-day period to allow the intensity of radiation to die down before leaving the comparative safety of the shelter to work in the less well protected cowshed. If necessary the milk would have to be wasted.
Arrange your farming so that essential things are near the house or near the livestock buildings. For example, a mains tap outside the buildings (or better still, inside them), might be very useful. Have your silage pits as near as possible to the buildings where your livestock would be sheltering from fall-out; the shorter your journey in the open, the less exposed to fall-out you would be. But in siting your haystacks, remember the risk of their being fired either by a bomb or through natural causes. Have a store of fodder always inside your buildings, and if the roofs are poor, have some tarpaulins ready to put over them.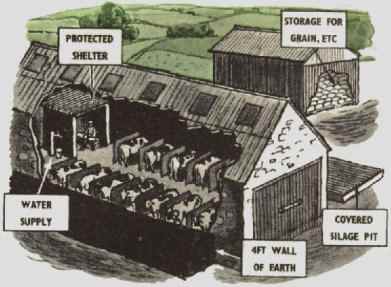 A wall of earth 3 or 4 feet high against the livestock buildings would add to the protection against radiation which the walls would give your livestock. For example, a potato clamp built against walls of a building would be useful protection.
Store as much clean water as you can for your animals which are under cover. It must be near the buildings. If you have a well, see that it is kept clean and covered. Put some tubs and other containers beside your buildings and keep them covered. Fill them regularly with clean water.
Get hurdles or fencing ready so that cattle could, if necessary after the attack, be confined to a small area of grazing.
Make sure any seed or grain is in a weatherproof building into which fall-out would not penetrate, and that your windows, doors and roofs are in good repair or covered over.
If you are short of shelter for your livestock and have a Dutch barn, build up bales of straw at the sides and ends. The straw would not stop the radiation from fall-out to any extent, but the makeshift walls would reduce the risk of fall-out dust getting on the coats of animals sheltering under the barn and would keep the fall-out at a distance from them.
Try to have some satisfactory storage space for fuel (a fuel tank is a good investment in peace time), fertilisers, feeding-stuffs and seeds. If there were to be a few months' warning of a war it might be possible to arrange with the trades concerned to move supplies of these requisites on to farms.
If a war threatened, the Government would supply you with more detailed advice about the farming problems you might have to face and what it would want you to grow. There might be time for you to adjust your farming programme accordingly.
Warning, after an outbreak of war, of the approach of fall-out
First of all, make arrangements for the safety of your family, your workers and yourself. Don't forget to take enough farm and garden produce into the house to last you for a week or two. Keep a spare set of clothes handy which you would use only outside the house; by changing them when you came in, you would avoid taking fall-out into the house. If you have made a protected shelter in the cowshed, make sure that there is some food and water in it.
THESE ARE THE THINGS YOU MIGHT
SEE TO ON THE FARM
Livestock
The nation would need all the clean milk it could get. Therefore get everyone busy first bringing in the dairy cattle and the calves if possible into a building by themselves. Then, if you can, get your other livestock into buildings or a yard or, failing that, to a small field. If any animals had to be left in the open choose a sheltered field. Trees would give some protection.
Do what you can to reduce the milk yield of your cows temporarily to ease their pain, in case you cannot get out to milk them for a day or two.
Thus:
Milk them out before leaving them.
Leave just sufficient food to keep them alive; it would be best to give them poor quality fodder, such as straw. The supply of water to drinking bowls should be cut down.
Wherever possible, house any calves you have with the milking cows so the cows can suckle them.
Other animals can have food and water if you have time to get any in, but give them as little as is necessary to keep them alive. You may need all the clean food you have for feeding dairy cattle if the fall-out comes.
Fodder
Bring under cover as much food as possible for your live-stock, or put a tarpaulin over it (for example, if you have an open silage pit or any grain in stack).
Water
You cannot rely in advance on a continuing mains supply-therefore store as much water as possible. Well water is likely to be safe if you have put a cover over the well to prevent contamination by fall-out. But if the well had not been in use for some time, you should boil the water or add hypochlorite at the rate of ½ teaspoonful to 10 gallons of water before using it for human consumption. If you have a rain-water butt make sure that you can turn the spout away so as to stop the rain washing fall-out from the roof into your clean water. Cover the butt itself. If you have a stream running through your farm you need not worry so much about water for your livestock, as the stream is likely to be safe for livestock to drink, especially if it is fast flowing.
Implements and Machinery
If you still have time, bring your vehicles and tractors near to the farm-house and under cover if possible; alternatively, cover them with tarpaulins or sacks. But only bother with machinery and implements after you have seen to your livestock. Food and water come first.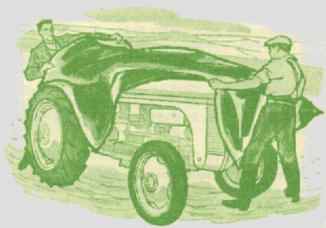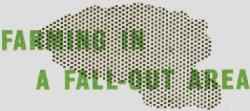 If there were to be an attack on this country with nuclear weapons, and you had had to shelter from fall-out, you would want to know, when you were told it was safe to leave shelter:
whether the food on your farm would be safe to eat;
what you could do to reduce the risk from fall-out; and
what you ought to be doing on your farm.
FOOD FOR YOUR FAMILY
The food in your larder would be safe to eat, provided it was in sealed containers or otherwise protected so that no dust from outside could get on to the food.
There would also probably be food on the farm which you would want to use if you knew it was safe to eat or knew how to make it safe.
The following paragraphs give some advice on dealing with food produced on your farm.

MILK There would be a very great risk in drinking milk from cows which have eaten food contaminated by fallout. If your family badly needed milk, it should be given to them only if you were sure that your cows had been under shelter before the fall-out came down and had not left it since, and that they had had only food and water on which there could have been no fall-out dust.

EGGS It would be safe to use eggs from poultry that had been under cover the whole time since the fall-out came down. It would not be quite so safe to use eggs from poultry on open range, but they could be used if badly needed as food, since the risk from fall-out would be only slight.

POTATOES AND ROOTS It would be safe to use fully grown potatoes and root crops ready for harvesting, provided they were well washed to remove all soil particles and also peeled. It is important that the fall-out should be removed; it is not destroyed by boiling or cooking (see below-'Growing Plants').

GREEN VEGETABLES It is better not to eat green vegetables which might be contaminated by fall-out. But if in the first few days after the attack you had to take the risk of eating green vegetables choose only plants with solid hearts such as cabbage, sprouts and lettuces. Several layers of the outer leaves would have to be removed and the heart washed thoroughly before cooking. The discarded leaves should not be kept indoors. Loose-hearted cabbages, etc., would not be fit to use, as there might be fall-out on the leaves. In dealing with all garden produce, it would be advisable to wear gloves, preferably rubber, to keep contamination away from the skin. You should scrub your hands paying particular attention to your nails.

PEAS AND BEANS Only the pods of peas and beans would be contaminated. The peas and beans inside would be quite safe to eat.

But in the case of growing plants there would be the danger after the first few days that potatoes and other root crops, as well as peas and beans and the leaves of cabbages, might be contaminated by radioactive material which had been taken up through the root system from the soil (see Fall-out in the growing season). If the fallout came during the growing season it would be better to have the crops tested for radioactivity before eating them. But if food was so scarce that you had to eat growing plants which might be contaminated, it would be safer to use potatoes, then peas and beans, then green vegetables, in that order.
REDUCING THE RISK FROM FALL-OUT
There is no known way of preventing the fall-out from giving out its radiations, nor of speeding up the rate at which the intensity of the radiations dies away. All you can do is to move the fall-out to a place where it can do least harm.
In the few hours each day when it would be safe to be out, your first job would be to see to your livestock. Then if you had plenty of water you could hose down the roofs and buildings, also any made-up surfaces or hard roadways there may be around your buildings. If you had little or no stored fodder, some nitrogen could be put on to a well-grazed pasture. It would speed up the growth of new grazing, which would be very much safer than the older grass that was there when the fall-out came down. Or you could mow some grass, cart it to a place where the animals could not get it and put some nitrogen on the field to encourage new growth.
It would be useful to keep a set of old clothes and rubber boots for outdoor use and to change when you got back home. They should be left in the porch on going indoors. When working, outside gloves should be used, preferably rubber ones, but in any case it would be most important to wash your hands well before eating and to scrub your finger nails well. If you were doing a dusty job - ploughing or cultivating dry land, or threshing or grinding corn or stacking hay - a handkerchief or a simple dust filter should be worn over nose and mouth, and ears should be plugged with cotton wool. Afterwards the nose and ears should be thoroughly cleaned.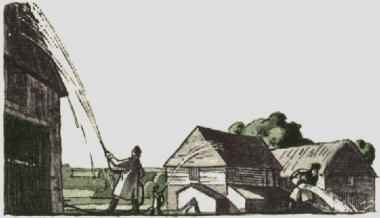 Persisting dangers from fall-out
Even several weeks after the fall-out had come down and when the danger from external radiation might have died away, it would still be important that farm produce, especially milk, should be tested for radioactivity, unless you were advised otherwise by the Agricultural Departments. This is because fallout consists of a mixture of many chemicals. All are radioactive. Some of these chemicals soon lose their radioactivity and so the intensity of the harmful rays being given off by the fall-out as a whole diminishes fairly quickly. Even so, if much fall-out had come down on your land, the rays might remain dangerous for several months. But if your land was only slightly contaminated, the danger from external radiation might last only several hours. This would not mean that all fall-out had ceased to give off rays. A small part of it, made up of those chemicals which lose their radioactivity only slowly, would still be giving off rays and you should take precautions to keep the fall-out away from your body.
One of these chemicals, called radioactive strontium, retains its radioactivity for many years. If it got into your body some of it would go into the bones and stay there, all the time giving out radiations which might eventually cause illness or premature death. That is why it is important for food to be tested for contamination before marketing. It is specially important that milk should be tested for radioactivity. This is because even though the amount of radioactive chemicals remaining in a fall-out area might be small enough to permit lifting any restrictions on the length of time people could be outside, dairy cattle on free grazing would collect these chemicals from all the grass they would be eating. In this way they might swallow dangerous amounts of the radioactive strontium, some of which would get into their milk.
If your cows had been under shelter and had had food and water which had had no fall-out dust on it, their milk would almost certainly be safe. Even so, it would be better for it to be tested before it was supplied to the public.

In war time the country would need all the food it could get and you should try to avoid wasting any milk produced by your cows. Milk which was found on test for radioactivity to be contaminated, or about which you were doubtful and could not get tested, could be made into cheese or better still, butter, if you had facilities for doing so. This would have to be tested for radioactivity later on. If you had spare churns the milk could be kept for a day or two until it could be tested. Contaminated milk, whether whole or separated, could be fed to pigs and steers. This is because its radioactivity is unlikely to do them very much harm before they reach the age at which they are ready for the butcher.
WHAT ELSE TO DO ON YOUR FARM
This handbook is intended to help you through the first few difficult days, or the week or two just after fall-out had come down. It does not deal with the longer-term problems such as how best to get a badly contaminated farm back into production again. This and other problems could best be tackled by advice on the spot in the circumstances of your farm.
Agricultural and other Government Departments are making plans for you to be given advice and help locally on the problems that would face you if ever there should be another war. But in the short term, the advice in this handbook, and that of your warden, would help you in the very difficult conditions that would exist after an attack with nuclear weapons. As long as it was safe to be outside - and your warden would tell you about that - it would be safe for you to carry on farm operations and to harvest your crops. Priority would have to be given to producing uncontaminated milk; remember that a thick, quick-growing pasture would help to reduce the risk from fall-out to the grazing animal.
The remainder of this handbook consists of information on practical questions which farmers are likely to ask about the threat from radioactive fall-out to particular farm enterprises in which they are interested. Though much of the information can be deduced from the facts about fall-out already given, the additional details will probably help farmers to make plans to tackle these entirely new problems, should they ever occur.
If you want further advice, ask your local agricultural officer.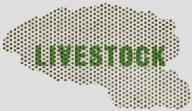 If you are able to get your cows under cover, keep them there as long as possible, and preferably until you are advised that it is safe for them to go out to graze. If a shortage of feedingstuffs forces you to put out your cows earlier, it is better to put them on as small an area as possible, even though it would mean a ternporary loss of milk production, so as to reduce the amount of fall-out getting inside the animals and into their milk.
Should cows be dried off rather than continue in milk on a contaminated farm?
The advice given above would reduce the yields of milk. But during the time the dairy cattle were being fed on stored food (if your silage pit or haystack had not been protected, it would still be safe to feed your cattle on them, provided the surfaces exposed to the atmosphere were removed.), you should cut and cart away the grass from your pastures, especially if the fall-out had come in the summer when growth was quick. This treatment would remove most of the fall-out from the pastures. Your cows could then graze the new grass as it grew. The grass taken off could be made into hay or silage and tested later to see whether it was safe to be used for fodder. If you had to put your cows outside without being told it was safe and if you had been unable to cut the grass, another way to reduce the amount of fall-out getting into their milk would be to let other livestock graze the area first.
Even if your cows had to be on contaminated pasture for a time, provided they did not take in sufficient fall-out to cause illness or death, they would still be able to give uncontaminated milk later on. Once they had got back on to an uncontaminated food supply, the amount of radioactive chemicals in their milk would be reduced each day until after a few weeks their milk should be fit for human consumption, though it would need testing first.
Would contaminated milk make milking machines unfit for use?
No. The ordinary thorough cleansing given to milking machinery and milk containers would be satisfactory.
Are them special precautions for handling dairy cattle and other livestock exposed to fall-out?
Yes. If your animals had been exposed to fall-out, their coats would have trapped the dust, and you should wash your hands thoroughly after handling them. Where practicable, the best thing would be to clip their hair or hose them down. Sheep dips or disinfectants give no protection against radioactivity. When milking, you should use rubber gloves and wear overclothes, such as an overall or mackintosh. The gloves should be washed after use and the overclothes left outside the farmhouse. You would have to be very careful to prevent dust, hairs, etc., from falling into the pail if you were hand milking.