A garden shelter should preferably be at least half the height of the nearest house away to avoid debris from collapsed buildings. It should also be away from large trees. Before removing earth check that you cannot damage drainage or other services.
Planning permission, Building Regulations and rating
If you wish to install a permanent shelter you may need permission. You should check the regulations before submitting plans or beginning work. Your local District Council will tell you about planning permission and the Building Regulations. A permanent shelter may affect the rateable value of your home, and this is a matter for your local District Valuer and Valuation Officer (Regional Assessor in Scotland).
Type 1a
Easily-constructed improvised garden shelter using household materials
This shelter is suitable for areas where under ground shelters are impracticable, for example, where there is a high water table, so that a deep hole fills with water. It can be constructed using only materials which are generally available, and could be built in a time of crisis. It would take two people about 24 working hours each to build.
The shelter consists of a shallow trench dug into the ground with a roof of doors or sheet timber that is supported above ground level by earth walls. The structure is then covered by at least 18 in. of earth.
This basic design will give good protection from fallout radiation particularly if the occupants keep away from the entrance area. If, in addition, a barrier of sandbags or packed soil is built about two feet in front of the entrance, and to the same height, the protection in the entrance area will be improved.
Construction
1. Select a site on level ground where there is little chance of rainwater collecting.
2. You will need:
i. Pick, shovel or spade (preferably both), wheelbarrow or buckets, saw, screw-driver, knife, tape measure, pencil and paper, and a pair of gloves.

ii. Pieces of large sheeting material. e.g. carpets. blankets. sheets, heavy duty polythene, sacking etc. for making earth rolls (Fig 7).

iii. Plastic bags or pillowcases for making sandbags.

iv. Timber: pieces of 2 in. x 4 in. wood at least 3 ft long are must useful although any suitable strong timber could be used for the cross braces (Fig 6). Floor-boards about 4 ft long could be used for entrance and exit tunnels (Fig 13).

v. Nails: 100 x 2 in. steel nails, 30 x 4 in. steel nails.

vi. Doors: one door (normally about 30 in. wide) per person is required, together with one door each for entrance and exit. Fittings such as handles should be removed. If you do not have enough doors, sheet timber can be used.

vii. Rainproofing material to cover the doors, e.g. polythene sheeting, shower curtains and vinyl floorcovering .

viii. Pegs and string for markers and tying sandbags.
3. Construct the shelter as shown in Figs 4-14.
4. Furnish the shelter as required.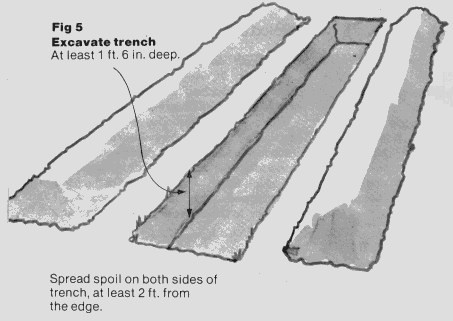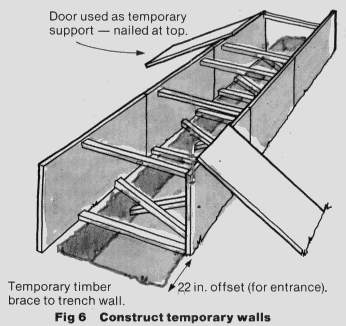 40 in. by 2 in. temporary timber braces between doors.
Doors in position - construct temporary supporting structure of doors and timber against which earth rolls can be built (frame is removed later and doors, then used to form a roof).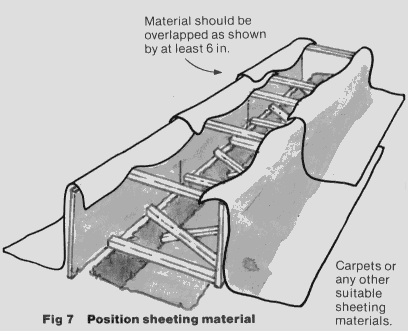 Fig 8 - Construction of earth rolls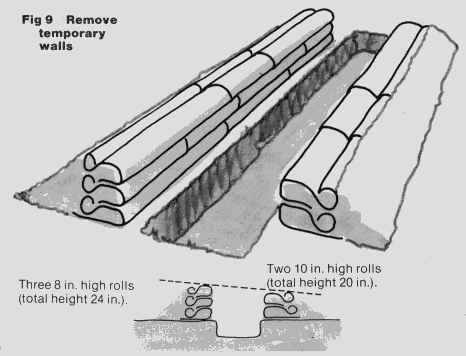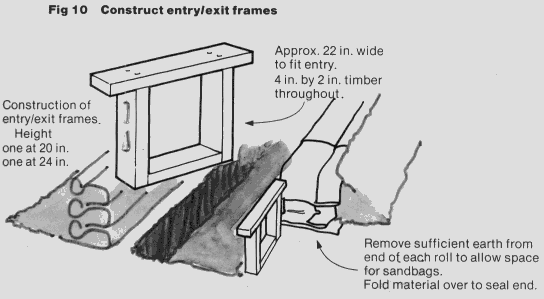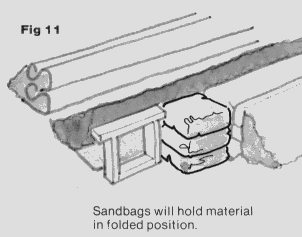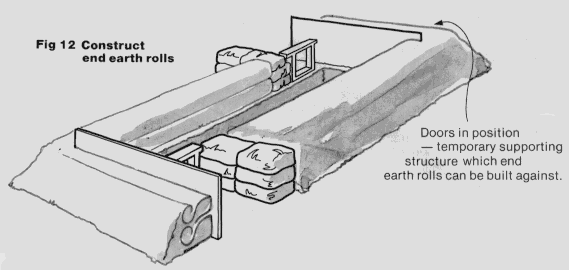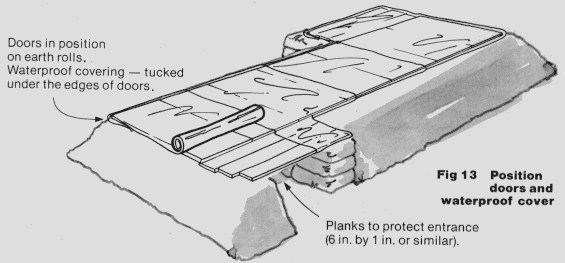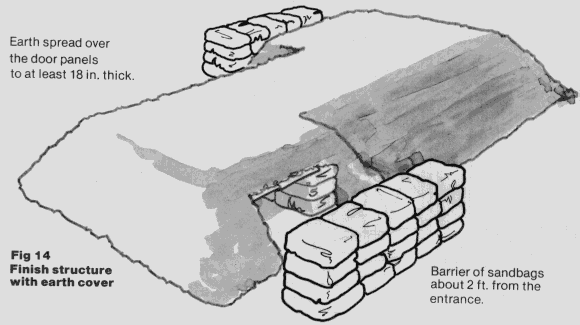 Type 1b
Improvised outdoor shelter using do-it-yourself materials
The following diagrams show how a basic shelter can be constructed from standard scaffold poles and other materials available from builders merchants, timber yards and do-it-yourself stores.
This type of shelter could be constructed in a time of crisis from materials previously purchased and stored. It would take two people about 24 working hours each to build this shelter - the size is adaptable.
The dimensions given would accommodate a family of four for a short period or two people plus provisions for longer.
This shelter uses steel or alloy, standard diameter scaffold poles. These are arranged in a series of 'A' frames over a trench. It is necessary to brace the frames with further scaffolding both diagonally along its length and across the waists of the 'A' sections to give rigidity. In both cases proprietary clamps are the best method of securing the scaffold poles to each other.
Prepare a trench 8 ft. x 8 ft. and at least 1 ft. 6 in. deep. Line it with heavy duty polythene sheeting. Lay a floor of two sheets of plywood, 3/4 in. thick and 4 ft. x 8 ft.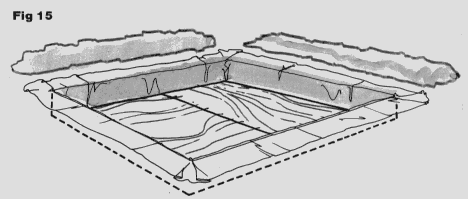 Construct the frame of scaffold poles (or you could use wood). This should be as strong as you can make it. You can increase the strength with vertical and diagonal bracing, or crossbars.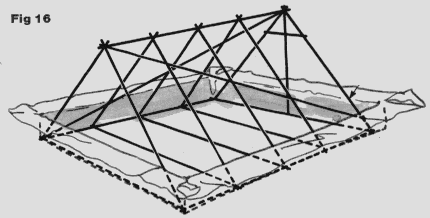 Add the frame for the entrance tunnel, and also the ventilation pipe (described opposite).
Cover the entire frame (except the entrance hole) with plywood boarding. Any small gaps or sharp edges should be covered with carpet or thick fabric.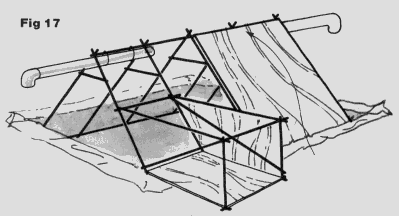 Wrap the shelter with overlapping sheets of heavy duty polythene. Make sure the trench lining is within this cover.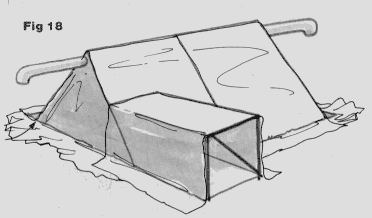 Finally, cover the shelter with a thick layer of earth (about 18 in.). The earth removed from the trench may not be enough for this. It you decide to dig a deeper initial trench to get enough earth to cover, you may need to make some modifications to the design given here.
The shelter will give better blast protection if you put a layer of resilient material between the polythene and the earth covering. Straw, mattresses, or similar, would be suitable.
The entrance can be filled from within with small bags of sand or earth. You will have to store these inside the shelter.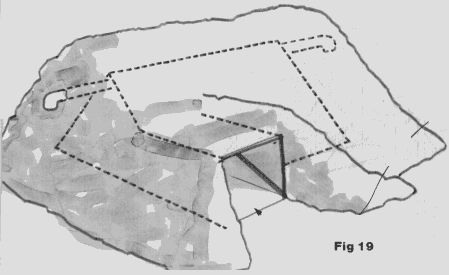 Ventilation
For this shelter you will need to make some provision for ventilation. The diagrams show metal drainpipes with a bend near the opening, so that this faces downward. The opening should then be filled with a filter of steel wool. It is extremely important to ensure that ventilation pipes are secure and kept free of obstruction.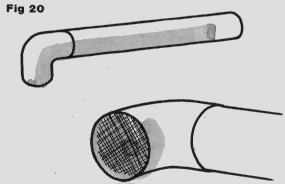 The following two designs are intended to be sold by manufacturers as kits together with installation instructions. Design drawings are to be found in Domestic Nuclear Shelters - Technical Guidance.
Type 2
Indoor shelter from manufactured kit
This type of shelter - basically a protective steel table - is suitable for homes that have basements or rooms that can be converted into 'fallout rooms' (described in Protect and Survive) provided that the floor is strong enough to support it.
This shelter will sustain the debris load resulting from the complete collapse of a normal two-storey house. To obtain protection from fallout, it must be surrounded with dry-laid bricks, sand or earth bags or heavy furniture filled with sand, earth or books.
The shelter is designed to accommodate two adults and two children. Two shelters or more may be put together to increase the capacity.
It would take two people about two hours to erect the shelter itself and up to an additional 20 hours to surround it with protective material.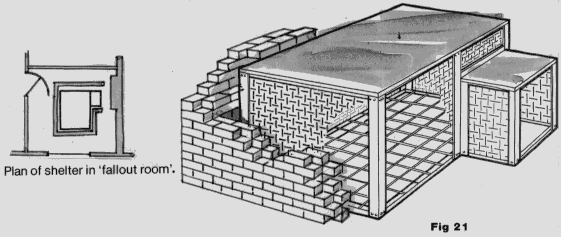 Type 3
Outdoor shelter from a manufactured kit
This type of shelter is generally suitable where there is a garden or other convenient land near the living accommodation. It is formed by building a strong structural shell with prefabricated steel components bolted together to form a sealed room of sufficient size for up to six people. The shell is semi-sunk in the ground and covered entirely by earth from the excavation.
There will be variations both in materials and construction depending upon the costs. The assembly of the shell would take a full days work for two people. The excavation could, however, take at least a week for two people digging by hand.
While the kit could be bought in readiness and digging and installation done over a period of time the materials would have to be non-corrosive, and not likely to deteriorate.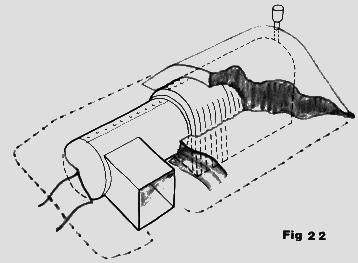 Type 4
Permanent purpose-built shelter
This reinforced concrete shelter must be erected by a building contractor under the guidance of a chartered civil/structural engineer. It should on no account be erected by unskilled or unsupervised labour.
If properly constructed it will give a high degree of protection against both blast and radiation. It can be designed to accommodate from six to 12 people and the cost will vary accordingly.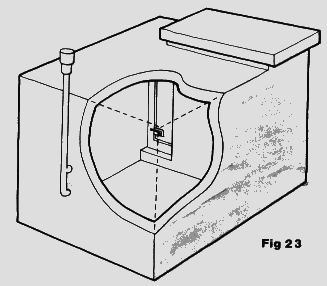 Stocking your shelter
Life in the confined space of a survival shelter needs careful planning.
You should store as much as possible of the following in your shelter:
Water
Water in sealed or covered containers to last you and your family for 14 days. Four pints per person per day would be sufficient for drinking and basic cleanliness.
Food
Enough food for 14 days, including tinned or powdered milk for the children and food for the baby - and a closed cupboard or cabinet in which to store these supplies.
A nutritionally balanced diet is not important for this length of time. A list of suggested foods and quantities for one adult is given at the back of this booklet. These have been chosen because they store easily and most can be eaten cold.
Nursing mothers will need extra food and children between the ages of one and five years should be counted as half an adult for the purposes of food stocks. They should also have the equivalent in dried or evaporated milk of one pint of milk per day. If your family includes a baby that is not breast fed you should provide dried infant formula.
Alternatives to this are 7kg of full cream evaporated milk and 1/2kg sugar or 2 1/2kg full cream dried milk and 1/2kg sugar, which should be sufficient for two weeks. To this can be added mashed 'adult' foods if the infant is more than three or four months old.
Radio
A portable radio (and a spare if possible) and spare batteries.
This is absolutely essential. It will be your only way of receiving instructions on when it is sate to leave your shelter and for how long. In the case of shelter types 3 and 4 an external aerial may be necessary.
Miscellaneous
Tin opener, bottle opener, cutlery, crockery and cooking utensils.
Warm clothing and footwear and changes of clothing.
Bedding. sleeping bags, etc.
Torches with spare bulbs and batteries, candles and matches. Open flames should not be used in shelter types 3 and 4 until the shelter door can be opened.
Toilet articles and washbowls.
First aid kit.
Notebooks and pencils for noting radio instructions.
Cleaning materials: including cloths, tissues, brushes, shovels and box of dry sand.
Garden spade
Improvised lavatory seat, polythene buckets fitted with covers, polythene bag linings for emptying the contents, strong disinfectant and toilet paper. Alternatively camping or caravan type toilet arrangements may be used.
Clock and calendar.
and just outside your shelter
Dustbin for temporary storage of waste matter.
Second dustbin for food remains. empty tins and other rubbish.
Polythene bag or bin for outdoor clothes and boots.
If possible. extra water supplies in covered containers, and games, children's toys and books.
Stoves burning liquid fuel or gas may be used at or just outside the entrance of shelter types 1, 1a and 2, or in a similar way in types lb, 3 and 4 but only when it is safe to open the hatch or door. Otherwise you should not use a stove of this kind in a sealed shelter.
Suggested food list
Supplies for two weeks for one adult