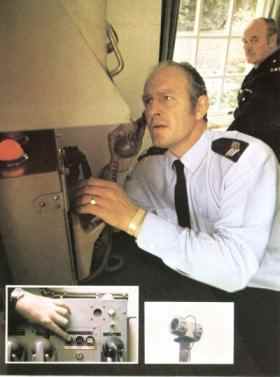 Protecting by warning
The United Kingdom is very vulnerable to nuclear attack. But even if this happened, countless lives could still be saved - provided that the public was given even a few minutes' warning. Further large-scale casualties could also be avoided if information on the pattern and path of any radioactive fall-out could be gathered and broadcast quickly enough.
To meet these two basic requirements, the United Kingdom Warning and Monitoring Organisation (UKWMO) has been developed over recent years. It is a system covering every square mile of the country, and parts of it could continue to function even if other sections were to sustain widespread damage.
UKWMO comes under the direct control of the Home Office. It is no mere concept or blueprint. It exists today as a combination of "concrete, copper wire and trained personnel". Although in "normal" times it is kept ticking over by a skeleton staff, during a national alert or emergency it can be brought into full operation in a matter of hours. At peak strength, it is manned by many thousands of trained personnel, the vast majority of whom are volunteers from all walks of life - including architects, mechanics, farm and factory workers, accountants, civil servants and various other trades and professions.

Links with NATO
In addition to its basic role, UKWMO provides one of Britain's civilian services to NATO. In the event of a nuclear attack, one of its jobs would be to supply information on nuclear bursts and fall-out over the United Kingdom: in return, information from the Continent would be received. The UKWMO structure of communications is fully geared to meet this service.
Time is vital in all these activities. If called into action, the Organisation might be able to give no more than three or four minutes' warning of attack. The effectiveness of these few minutes would depend on people being prepared for an attack and knowing at once what to do. That would be a matter of intensive education in the period immediately preceding hostilities and is a story in itself This booklet describes just how much thought and effort have gone into making the warning system as foolproof as possible.

The Role of UKWMO
The United Kingdom Warning and Monitoring Organisation has five main functions. These are:
Warning the public of any air attack.
Providing confirmation of nuclear strike.
Warning the public of the approach of radioactive fall-out.
Supplying the civilian and military authorities in the United Kingdom and neighbouring countries in NATO with details of nuclear bursts and with a scientific assessment of the path and intensity of fall-out
Provision of a post-attack meteorological service
Among these activities, warning of air attack is of vital and primary importance. The task or monitoring fall-out, though calling for more resources of men and equipment, is seen essentially as an important adjunct. It is in fact sometimes claimed that UKWO will have justified its existence if it carries out its first and vital function.
Warning against air attack
Information of an impending air attack on the country would come from a number of sources, including North America, NATO, and our own RAF Sector Operations Centres. In the main, however, warning of such attacks would come from the Ballistic Missile Early Warning System at Fylingdales, on the Yorkshire coast, backed up perhaps by further information from other points of the system in Alaska and Greenland.
As for the threat of "back door" nuclear attack from submarines, this too has been taken into account. Special electronic equipment is able to register any nuclear burst the moment it occurs. This equipment is known as AWDREY, an acronym for Atomic Weapon Detection Recognition and Estimation of Yield.
All these reports would be assessed by Home Office staff stationed for the purpose at the United Kingdom Regional Air Operations Centre (UK RAOC). It would he for them to decide from the military advice available whether to set the national warning network in action.
Turning a key in a special electronics box at UK RAUC alerts simultaneously 250 carrier control points (CCPs) located in major police stations throughout the United Kingdom. By pressing a switch on the special communications equipment at each CCP, the police can activate powered sirens sited at strategic locations in urban parts of their warning area. In all, there are some 7,000 power-operated sirens installed throughout the country.
These are backed up by a network of some 11,000 other warning points in rural areas, located mostly at police, fire and coastguard stations, civil and military establishments, hospitals, various industrial centres, and monitoring posts manned by the Royal Observer Corps. Certain warning points are also to be found in shops, pubs and private houses, in areas where suitable locations would not otherwise exist.
Each CCP is linked to the warning points in its area of responsibility by means of a unidirectional carrier line broadcast system, which superimposes additional signals upon the existing Post Office local telephone cable network without interfering with the normal traffic carried on that network. A warning message can be broadcast over this system and heard by the warning point operator on the carrier receiver unit, which resembles a small loudspeaker in appearance.
Upon receiving a warning message of an air attack from its carrier control point over this carrier broadcast system, a warning point operator would sound the alarm by hand-siren. At the same time, warnings would be broadcast at national level on TV sound and radio. Altogether, in the ways described, it is estimated that the vast majority of the population would be alerted in time to take action to protect themselves against the danger.
A simple but effective warning code has been devised as an integral part of the LKWMO system (see Appendix). This code can be easily understood and conveys a sense of great urgency. It covers warnings both against air attack and radioactive fall-out, and gives a subsequent "All Clear" signal.